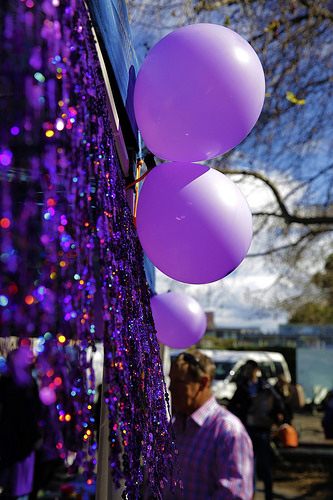 Wear it Purple Day 2019 – Friday 30th August 2019
Wear it Purple Day is Friday the 30th of August, 2019. Wear it Purple Day is about showing LGBTIQ+ young people that they have the right to be proud of who they are. It is about creating safe spaces in schools, universities, workplaces and public spaces to show LGBTIQ+ young people that they are seen and supported.
This year over 750 schools, community organisations and universities have organised events across Australia, and through the activities of schools that recognise Wear it Purple Day, we'll reach over 600,000 young people, meaning that young LGBTIQ+ people will benefit from seeing the respect, acceptance and inclusion that surrounds them.
This year's theme is Stand Up. Stand Out. and it pays tribute to those who've paved the way for LGBTIQ+ people and welcoming the positive impact of those who've been able to be out, proud and visible.
Wear it Purple recognises that not everyone can feel safe to come out and this year they want to connect people to the stories of those who have lived their truth and flourished. This is also the year to recognise our LGBTIQ+ allies, friends, family and colleagues - Wear it Purple invites you to Stand Up and Stand Out in support of LGBTIQ+ young people in 2019.
"We hear from young LGBTIQ+ people in our Wear it Purple youth action council (YAC) and broader youth networks that they face fear of being rejected or discriminated for simply being true to who they are. Research shows us that 75% of LGBTIQ+ youth experience some form of discrimination. Without visible signs of inclusion explicitly showing rainbow youth that they are accepted, supported and included, young people find themselves adopting a path of hiding themselves to fit in, rather than standing out as their authentic self which can impact their long-term health and wellbeing." - Ross Wetherbee, President – Wear it Purple
Who are Wear it Purple?
· Community Organisation/Charity of the Year at the 2019 Australian LGBTI Awards
· 100% volunteer-run, from our youth leaders to the board.
Wear it Purple was founded in 2010 in response to global stories of real teenagers, real heartache and their very real responses. In 2010, several rainbow young people took their own lives following bullying and harassment resulting from the lack of acceptance of their sexuality or gender identity
What's happening around us today and why is this important?
75% of LGBTIQ+ youth in Australia will be bullied because of their identity.
80% will experience it at school. → Because of this, LGBTIQ+ youth are up to 12x more likely to experience depression and up to 5x more likely to experience anxiety.
"Fitting in and assimilating to the dominant culture can be a major barrier to creating belonging in schools, workplaces and our society more broadly. We want young people to truly feel that they have the right to be proud of who they are and that's why we are inviting the community to stand up, stand out and wear purple on Friday 30th August." - Ross Wetherbee, President – Wear it Purple
Hear from Wear it Purple's Corporate Supporters
Wear it Purple is proud to have the support from key corporate organisations including Telstra, Commonwealth Bank, Volley, Ashurst and Pure Finance. Wear it Purple relies on support from the corporate sector to continue to foster supportive, safe, empowering and inclusive environments for rainbow young people.
"There is nothing clever about bulling, it's a sad insecure trait that causes immeasurable destructive pain to those targeted. Wear it Purple is important to me as it celebrates inclusivity so that every person on this beautiful earth can feel safe being in their own skin." – John Szwede, Brand Manager, Volley
"At Pure Finance, we believe in delivering financial solutions that are better for our clients, better for the community and better for the world. It's an honour to support Wear it Purple as they campaign to help empower our rainbow young people to be proud of who they are, and to know that exactly who they are is exactly enough." – Brendan Dixon, Managing Director, Pure Finance
"Ashurst is proud to be a supporter of Wear it Purple Day. It's an opportunity to visibly show all LGBTI+ people we stand with them and their right to be proud of who they are. Wear it Purple Day is celebrated across Ashurst's international network and each year it grows in support, spreading this positive message of inclusivity and acceptance," Ashurst partner Andrew Carter said.
"Telstra is a proud supporter of Wear it Purple. We want rainbow young people to know that there are inclusive workplaces that will welcome and value them, not only for their skills, but for their unique perspectives and ability to represent our LGBTIQ customers and community." – Kylie Fuller, Head of Diversity & Inclusion, Telstra
What impact will Wear it Purple events, campaigns and support have on rainbow youth?
One of Wear it Purple's priorities is to support schools to run Wear it Purple Day events to show LGBTIQ+ youth that they are supported and that they belong. Wear it Purple provides free resources to schools and supports as many as possible with guest speakers from Wear it Purple's Youth Action Council. All donations and funds raised by Wear it Purple go to supporting LGBTIQ+ youth.